Why Choose Same Day Crowns?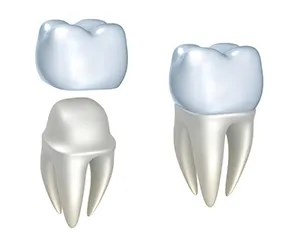 Same Day Dental crowns are very versatile dental prosthetic devices used to treat a range of issues. Our office has the convenience of having same day crowns...less expense...less time... more time for your life.
Here's how Same Day Dental Crowns can improve your smile:
Crowns protect teeth
If you develop a chip or crack in your tooth, you risk breaking that tooth every time you bite or chew. Getting crowns from your Columbia dentist protects fragile teeth and prevents breakage. If your tooth has already broken, a crown protects the remnants of the tooth and restores your ability to chew normally. Because a crown covers your tooth completely, it offers an excellent way to strengthen and stabilize damaged teeth. Crowns are often recommended after you have a large filling or have undergone root canal treatment because teeth may become more fragile and likely to break after these treatments if they're not protected.
Crowns improve the appearance of teeth
Crowns not only protect damaged teeth, but can also improve the appearance of your teeth. Tetracycline treatment or a large filling can change the color of a tooth. Although teeth whitening treatment can lighten your other teeth, it won't have any effect if the discoloration is caused by one of these issues. Since crowns encase your teeth, they cover the cause of the discoloration very effectively.
Crowns can also be used to make your teeth look more uniform if one of your teeth is unusually small or crooked, or if a tooth has an unusual shape. If a cosmetic issue makes you feel embarrassed to open your mouth, a crown can help restore your self-confidence.
Crowns offer a natural-looking cosmetic dentistry option
Crowns are often made with porcelain or porcelain-fused-to-metal. Porcelain is an excellent choice because it's not only strong, but is also translucent, which means it looks just like your tooth enamel. Crowns can also be made of other materials, including ceramic, resin, nickel or gold alloy.
Interested in Same Day Crowns? Call Cahoon Family Dental in Stafford, VA
at (540) 628-0684 to schedule an appointment!